I'm today's featured blogger over at
The SITS Girls
, and I'm kind of really excited!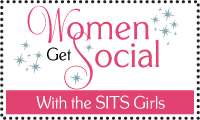 If you're here from SITS, hi and welcome to my space! I'm Bethany - mommy to a very energetic (and very talkative) toddler boy and wife to an amazing ER doctor. I like to talk, write, and overshare just a little too often. I love good books, my Keurig, Christmas, napping, and having a house full of friends (although preferably not all at the same time.) I love Jesus. I seem to have a lot of weird interactions with strangers.
I used to work for an awesome non-profit foundation, and then we moved for my husband Dan's residency, and I spent two years working as a substitute teacher (and I have no end of ridiculous stories from that adventure.) Now I stay home with my most interesting adventure yet.
I hope you'll stay a while, check out some of of my other posts (you can see some of my most popular posts to the left,) and leave a comment or two! I look forward to checking out your awesome blogs!
Thanks for stopping by!
Clicking this lady equals a vote for me over at Top Mommy Blogs,
so if you want to click her, I won't say no!